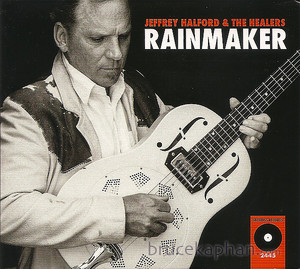 Also released and getting airplay around the globe, Jeffrey Halford's Rainmaker is worth checking out. On this album are tracks I engineered and co-produced, as well as tracks recorded by Sean Beresford and Adam Rossi. Last I heard, Rainmaker has risen to #12 on the Euro Americana chart.

Projects in progress:

The Monks of Doom consist of Camper Van Beethoven alumni Chris Pederson, Greg Lisher, and Victor Krummenacher, as well as David Immerglück from The Counting Crows. All busy with their other projects, this album has been in progress for quite a while, but it's getting close to completion. Monks of Doom music has been described as "dark indie experimental prog rock", but I prefer one of their early press descriptions: "Led Zeppelin and King Crimson meeting for cocktails at the home of Nino Rota and Captain Beefheart, but everyone gets paranoid and goes home early".

I'm also working on a debut album by a Walla Walla, WA band, Wildwood Park. Consisting of brothers Aaron and Jesse Burgess, Jesse's daughter Anna, and Dov Friedman, this band features the extraordinary singing and violin/viola playing of Anna, along with haunting lyrics and musical arrangement.

More on the horizon; more later...


By now, I should just give in to the reality that I only refresh these pages every so often, and not apologize that it's been more than a year since I updated. Today is May 27, 2013! My discography page has very little to show for the last year, but it doesn't reflect a bunch of work that's either still in progress or finished and soon to be released.

First, work that was in progress in earlier postings included the following: if my calculations are correct, the release of Victor Krummenacher's I Was A Nightmare But I'm Not Going To Go There marks the 11th project of his on which I've contributed in one way or another. I love working with Victor for so many reasons- too many to list... But at the top of that list is that he and I find a way to challenge each other by always trying new approaches in the studio. On I Was A Nightmare But I'm Not Going To Go There, we decided to go as live as we could in the studio, which meant no isolation of instruments, only some very limited baffling, and lots of ambient micing in our old friend Fantasy Studios, Studio A. For you recording geeks, though we did have some close coverage, we did our best to rely on room micing whenever possible, with wide pairs of both ribbons and dynamics and an M/S pair in the middle of the room. We set levels the old school way- by asking the players to change their levels for the group blend. Big Fun! Victor has been busy writing some very fresh sounding music and in July we'll start our next collaboration. I can't wait!

Another client who has become a dear friend over the years is Jeff Kazor, founding member of the old time string band The Crooked Jades. Looking over my discography, the release of Sound Track for Bright Land (with Kate Weare Company) marks my 7th collaboration with Jeff. Again, there are too many good things to list about working with and for Jeff. His visionary approach to old time music just keeps pushing the envelope of how I view working with acoustic instruments. Jeff has donned the producer's cap recently, bringing two projects to my studio, both of which have yet to be released, but for which release is imminent. The first of these was with Kenny Feinstein of Water Tower, formerly The Water Tower Bucket Boys. Kenny had always wanted to do an all acoustic instrument remake of Loveless by My Bloody Valentine. If you know that album, this may seem like a tall order, but again, with Jeff's visionary approach to acoustic music, we found ways to make interesting things happen. Previously I had never positioned my Coles STC-4038 so close to the bass strings of my piano as to literally have to worry about the strong magnet on the Coles pulling it into the string!!! The second project Jeff has produced recently is the debut studio album, Seven Hour Storm, from Misner & Smith, a delightful pair making really beautiful music. It's been such a long time since I was involved with helping someone make their first studio album. It was invigorating to watch their enthusiasm for the process.

Mentioned in earlier posts, I continue to work with Judy Irving, scoring her next film, Pelican Dreams. Contrary to how I've always contributed music to picture in the past, being handed a finished, or at least nearly finished edit for which I need to cram as much composing and production into a couple of weeks as is humanly possible, Judy and I are interacting more on a scene by scene basis. One more big plus for working in digital media! We can relatively easily edit around each other's work. Pelicans are such interesting creatures! And Judy has captured some absolutely stunning images. I anxiously await each newly edited scene. No promises, but I think Judy is probably shooting for a 2014 release.

In the late '80's and early '90's, when I wasn't on the road with American Music Club, I worked at a small audio studio in Palo Alto, James Daniels Productions. James decided to get into video and asked me to learn how to edit. Though digital video was breaking at that point, we ran an all analog (Betacam) facility. I learned the editing craft on the fly... My avocation is gardening, especially edibles of all sorts- much of the yard around my home has been planted in fruits and veggies, including apples, apple-pear, avocado, blackberries, blueberries, fig, grapefruit, grapes, lemons, lime, orange, peach, persimmon, plum, seasonal veggies, yuzu, etc., etc. I'm also a coffee fiend... In a seemingly random stroke of luck, a few years ago I met a couple of really remarkable farmers, Erik and Hillery Gunther. They own Hawaiian Cloud Forest Coffee. I met them after drinking a cup of their magic coffee; I couldn't help but thank them for creating such a wonderful brew. They invited my wife, Michele, and me to visit their farm. They mentioned that they were on the verge of launching a website, so in April of 2012, along with my old friend and camera operator/editor extraordinaire, David Cilberti, we shot extensive footage of their farm and procesing facility. If you like organic farming and coffee and really interesting and thoughtful stewards of the earth, then check out the video we made at Hwaiian Cloud Forest Coffee. This video includes some of my Weissenborn playing which isn't available anywhere else.

Another album I previously mentioned here was the next album from Jerry Vessel. This is my 2nd collaboration with Jerry, a true gentleman and gifted wordsmith/guitarist. Down at the Five Star is soon to be released on Caldo Verde Records. The production on this album is very spare, giving Jerry's voice and guitar plenty of sonic real estate.
On the album, the quartet explores 8 new original compositions, and for the first time in my "solo" career, 3 "cover" songs are included, the 1939 Bob Haggart classic What's New, Weather Report's Birdland, and the Allman Brothers Band's Jessica. My old friend David Cilberti directed a video shoot at the session at which these 3 covers were recorded and has since been busily editing the footage. The first of these videos is now viewable at youtube: Bruce Kaphan Quartet recording Jessica

Previously:

As always, it seems the prerequisite for updating this page is to apologize for not having updated it more recently! My constant excuse is that I'm too busy doing the work I report on here to report on it! No different this time. It's spring of 2012 and though I don't have a lot of releases to add to my discography, it's not for lack of work recently done that has yet to be released.

Since my last posting here, the two new additions to my discography are both releases I've mentioned previously here as pending. One is the film Dirty Girl, the other is Thomas Dolby's A Map of the Floating City. I played pedal steel on both.

Another project I previously mentioned as pending, still is, but is now VERY SOON TO BE RELEASED. I learned today that CD replication has been completed for the Bruce Kaphan Quartet album. I should have copies within a week. It will take me some time to prepare for release, but my tentative plan now is to release on May 1, 2012. Stay tuned!

I mentioned this project here in the past and progress is being made: just this past week I attended a viewing of a rough cut of Pelican Dreams from filmmaker Judy Irving, the director of The Wild Parrots of Telegraph Hill. I feel extremely lucky to be contributing score to this film. I was really encouraged by what I saw and heard and continue to look forward to contributing more score.

Production is complete and release pending for The Crooked Jades new release Bright Land. Jeff Kazor of the Crooked Jades and I are still in production on a project Jeff is producing for Kenny Feinstein of The Water Tower Bucket Boys. Also very nearly finished, another new album from Victor Krummenacher (of Camper Van Beethoven fame).

I've had a rash of calls recently to overdub pedal steel or Weissenborn on a variety of projects. When and if release information is pending, I'll report on these.

I'm very pleased to once again be working with Jerry Vessel (formerly of Red House Painters) on a new album of his songs.

past posts:


Once again, I feel like I must begin with an apology for not doing a better job of keeping this website current. Last I wrote was in the days prior to releasing Hybrid (released June 1, 2010). Without getting into all of the gory details, once again, I have a bucket-load of excuses for my negligence, but rather than going into the details of what was one of the most difficult years of my life, let me just say that the most significant detour was the diagnosis and subsequent treatment of my wife Michele's breast cancer. I'm happy that nearly a year after we learned of her condition, her treatments are history and her prognosis for the future is very good.

Though her care was my primary concern this past year, she, being the tough bird that she is, neither wanted nor needed to be cared for 24/7, so I kept working as much as I could. I've always thought of music as a refuge from the sometimes harsh realities of existence, but during this trying period of time, I was never happier and at greater peace than when in my studio working. And I've been working really hard, and working a lot. I've been trying to set aside more time for making my own music, but I've also continued producing, engineering and playing music for others. Sadly, with all of the above considerations, updating my website once again fell through the cracks...

I just posted some new entries to my discography. A few words about each project:

Around the same time Hybrid was released, Drew James' Mystic Rhythm Fingers was released. I've produced, engineered and played on a few albums for Drew over the years. The proliferation of technology that has made home recording increasingly affordable and easy has led numerous of my recording clients to build home studios. Drew recently did just that. I helped him out with a few engineering tasks on this new album, but he's very happily now recording by himself at home.

You gotta love the internet! I'm doing an ever-increasing amount of work for people I likely wouldn't recognize if I met them on the street… Early last year, I think it was through myspace that I received some mail from Aaron Price asking me if I'd be interested in overdubbing some pedal steel on a song he was working on for an album for singer-songwriter Nikki Talley . They sent me a track. I overdubbed in my studio and sent them the results. A few months later they sent me the final album, Beautiful Charmer. Nikki resides in North Carolina; I'm in California. It was a breath of fresh southern air to work on this project.

Similar to Nikki Talley's project, I was contacted by singer-songwriter Geoff Baker and recorded pedal steel on a track for his new album Where Are You Now?, all done over the internet.

Next up is an EP from singer-songwriter, pianist Yazmin . I produced and mixed this EP, as well as doing much of the engineering. We agreed to try to make a simple, intimate production, keeping things as minimal as the songs would allow-letting her beautiful voice and tremendous piano playing skills speak for themselves. After helping so many people make recordings, I've learned from experience that if you perform live and want to sell product at your gigs, it's always a good idea to be able to sell at least some product that represents what your audience just heard. Yazmin is just beginning her professional career and as such, as a gifted player and singer, it's inevitable that there will be occasions where she'll be playing solo. With very few exceptions (appearances from Todd Sickafoose, John Hanes and Angel Diaz) on this beautiful EP, that's exactly what she does, hence the EP's title, Solo.

Back when I used to play with American Music Club, there was another San Francisco band with which we occasionally shared the stage, Red House Painters. At the time, their bass player was Jerry Vessel. At that time, I think we appreciated each other, but never knew each other very well. I'm not sure of the status of either band at this time, but I'm no longer in AMC, and Jerry is no longer in RHP… Anyway, Jerry contacted me about contributing to a new project he was doing, called Heirlooms of August . Jerry was experiencing an explosively abundant period for songwriting and had a really unique presentation in mind to bring the music to life. I engineered fiddler Annie Staninec's and bassist Todd Sickafoose's overdubs and played pedal steel, Weissenborn and Dobro. If Jerry enjoyed working with me half as much as I enjoyed working with him, a splendid time was had by both of us! The album is available through RHP leader Mark Kozelek's label, Caldo Verde .

Bozon's Cold Fusion is a long, long story. Long before I ever touched my first pedal steel, I played (mostly electric) guitar. Though I later got to play guitar on some pretty cool projects (John Lee Hooker's Grammy award winning album Chill Out, for instance), easily, the pinnacle of my guitar playing career at that time, was playing with a band only a few dozen people know anything about. That band was Bozon . For those of you who know me as a pedal steel player, this album may be a little too far off the beaten track for you, but I encourage you to listen to at least the track Puget Sound- it's the only track on this album that features my contemporary pedal steel playing. For more details, please visit the Bozon section of this website, located under the Music for Sale tab.

I'm a sucker for strings! I just love the musical possibilities of the violin family. This ties into both the next album listed in my discography, but also into a project which has yet to be released, but about which I'm really excited. First, Mike Errico is a New York based singer-songwriter, guitarist. Another bi-coastal project done over the internet, Wander Away was deeply satisfying for me. I just love the production of this album- many of the songs are accompanied with lush string arrangements into which Mike invited me to contribute. Mike has an amazing voice. He knew what he wanted from me too! Often I overdub for people who think they want pedal steel to be a prominent part of the accompaniment, but realize that a little bit of pedal steel can go an awfully long way, and ultimately a lot of what I play is left on the cutting room floor. Not so in this case! It was a real pleasure to play on these tracks, and a surprise and a pleasure to hear how much of my playing survived into the final mix!

My old friend Chris Brooks, whose resumé includes countless Hollywood films, introduced me to Jeff Toyne, a composer who at that time was working on the score for a feature film called Dirty Girl . Yet again, Jeff was working in Hollywood, but I did all my tracking in the comfort of my own studio; the only traveling that was done was done by data over the internet. I've yet to hear how it all came out, because I was overdubbing to modeled tracks at that time, but eventually those modeled tracks were replaced with a real orchestra. This will be my first experience playing (albeit virtually) with an orchestra. This film was picked up by the Weinstein Company and stars notables such as William H. Macy, Dwight Yoakam, Tim McGraw, Mary Steenburgen. Milla Jovovitch, and newcomer Juno Temple, so I'd have to imagine it will eventually be released.

Two more exciting projects are in process. In my previous installment, I mentioned that Thomas Dolby had inspired me to work on a body of material that is now almost ready to be released- a few more months, maximum. The format is quartet: piano (either John R. Burr or Rich Kuhns), bass (Jeffrey Wash- the same Jeffrey Wash who appears on both Slider and Hybrid), drums (Jason Lewis) and yours truly on pedal steel. After putting out Slider- Ambient Excursions for Pedal Steel Guitar and Hybrid, the material on both of which, for a variety of reasons, doesn't lend itself particularly well to live performance, I wanted to make an album that could conceivably be represented well live. I'm humbled by and will forever be deeply appreciative of and for the incredible skill of the musicians joining me on this project. The music written and covers chosen are inspired by my love of artists such as Pat Metheny, Bill Frisell, Miles Davis, Frank Zappa, Thelonius Monk, Terje Rypdal, Buddy Emmons, Brian Eno, Weather Report, The Allman Bros., and so many others. I'm really looking forward to birthing this one within the next few months.

Last, probably still a year or more from release, I feel very fortunate to have struck up a friendship with Judy Irving, the director of The Wild Parrots of Telegraph Hill. If you haven't seen it, this is a really enjoyable documentary chronicling the existence of a community of wild parrots living on Telegraph Hill, in San Francisco. One of her current projects is (perhaps a working title?) Pelican Dreams. I've already scored one scene for this film and look forward to more.

Other ongoing engineering/production projects include working with Jeff Kazor on a Crooked Jades release of the soundtrack for their critically acclaimed collaboration with the Kate Weare dance company, Bright Land. I'm also engineering a project Jeff is producing for Kenny Feinstein of The Water Tower Bucket Boys. As has been the case for many years now, I continue to have ongoing projects with my dear old friend Victor Krummenacher of Camper Van Beethoven fame.

past posts:


If you've visited this website during the last couple of years, you might have thought I had died and no one had bothered to shut my website down. I admit it- my website maintenance has been essentially non-existent. But that was then and this is now! I don't defend the lack of maintaining my website in the past, but I can explain it: I've just been too busy to deal with it. A variety of occurrences have finally conspired to cause me to refocus my attention on this website. Since the release of Slider- Ambient Excursions for Pedal Steel Guitar, other than a couple of film scoring jobs, I mostly found myself producing and/or engineering projects for other artists (evidence available on the discography page of this website!). Most of this time I had multiple concurrent ongoing projects; I struggled to meet all of the demands of my work and personal life.

Even very shortly after the release of Slider, I had plans to release a follow-up to it. There was an option in my contract with Hearts Of Space Records, and the president of the label had given me no reason to think we wouldn't do a second album together. Then the Hearts Of Space Records catalog was sold to a bigger record company that neither had any interest in promoting Slider, nor any interest in following it up. However, amidst all this disinterest, they were unwilling to release me from my contract, thereby maintaining an option to call theirs anything I might record, for the duration of the contract. As my relationship with this company devolved, I vowed to myself that I'd rather never make another album than make one that would be released by this company. Then there was 9/11; for a while, I questioned whether wiggling the air was a noble enough pursuit to continue doing it. Then my beloved mother-in-law was diagnosed with terminal lung cancer. My wife, Michele, and I hunkered down, took her into our home and cared for her until she died. All the while I was still fighting to get out of my record-contract-gone-bad. To be honest, with so many depressing things going on in my life, I wasn't inspired to make new music. I want my music to be uplifting; I'm not a good enough actor to have put a happy face on during that period of time. Then my production and engineering workload just went crazy. As much as I like the work, after years of multiple concurrent projects I began to feel like I was on a treadmill set to high, and I couldn't get off. In the back of my mind, getting ever-stronger, was the impulse to make more of my own music.

At just the right moment, out of the blue, I received an email from Thomas Dolby. He made me a couple offers I couldn't refuse, first asking me if I'd be interested in playing pedal steel on his first new album in quite a while; of course I said yes, subsequently overdubbing on Seventeen Hills- just released on Amerikana, available at www.thomasdolby.com and includes contributions from Jeffrey Wash (fretless bass on both Slider and Hybrid), Mark Knopfler and Natalie MacMaster. The other offer he made was just as compelling, but as it turns out, more important to helping me get off the treadmill I described earlier. In addition to being a musical phenomenon in his own right, he's the musical director for the TED conference (www.ted.com). He asked me if I'd be interested in performing at the TED conference. I've known about the TED for a long time, probably because my older brother, Shel, is a hacker and I grew up around him and his hacker friends. Although I never had that brand of intelligence, I was exposed to a lot of interesting things because of my brother and his friends- TED being one of them. I was honored to have been asked to audition to appear. Thomas also liked the fretless bass playing he'd heard on Slider, and asked me if I'd consider performing as a duo with the bass player from Slider, Jeffrey Wash. Of course I said yes! Jeffrey also agreed to give it a try. The only hurdle in our way of getting this gig was that we'd have to write some duo music that we could perform, then demo it, and finally submit the demo to the committee at TED, for approval (or rejection). Thomas and I agreed that it would probably be necessary for me to use a looping device to make the music interesting enough to hold the audience's interest- I had explained to Thomas that watching someone play pedal steel isn't very visually interesting, with both hands, both knees and both feet using relatively fine motion to play the instrument. I bought a looping device (a Roland RC-50) and started writing.

A couple of months before Thomas's email, I found myself in a couple of production jobs that were increasingly frustrating. My wife Michele and I had planned a Hawaiian vacation with various other family members. Three weeks on the Big Island. I packed my miniature studio so I could write for the TED audition. I also took a bunch of other work-related projects. After about a week of spending a fair amount of time taking care of the work I had packed, I started to unwind and dig into writing music. Two weeks of this and I had an epiphany. I HAD TO get off the treadmill and re-focus on my own music. Once I made this decision, it took me a year to finish the four albums I had in production at that time, but then I finally began working seriously on new material. In the meantime, the "committee" at TED said NO to me and Jeffrey. But this was not the first time either of us had seen rejection! Jeffrey and I were both excited about the potential of the music we had just created. More on this later.

Although during the period of time I was exceptionally busy producing and engineering other artists I didn't do much writing, I actually had been working pretty hard at preparing for doing new music. I've been riding two bicycles simultaneously for a long time. What I mean by this is that I've been a musician, (lucky to have found myself working in many extraordinary circumstances as such), but I've also been very lucky to spend a huge portion of my life working in recording studios as either an engineer or producer, or both concurrently. Sound is really important to me, as is music- I really don't think of music and sound as mutually exclusive. When I signed with Hearts of Space Records, I almost immediately went into production on Slider. Sadly, due to a variety of reasons, I didn't have a lot of time to prepare for, or for that matter produce the album, so I didn't have any time to address some nagging issues I'd been experiencing with my pedal steel and its amplification and recording chain. I had built my rig for my time with American Music Club. That band played pretty loud, and I was always scared of sounding too country; my system was designed around these conditions. Although I'm not unhappy with the sound of Slider, once it was finished I vowed to build a system that better matched the sound I imagined I'd like to be getting for small ensemble, relatively quiet music. I really wanted to get to the essential nature of the sound of my instrument. Ultimately, this meant researching, finding, buying and often modifying: a new pedal steel, new pickups, new cabling, a new volume pedal, new amplifier, new speaker, new microphone, new preamp, new compressor and new DAW I/O. Gearheads, read on. If you don't much care about such technicalities, you should skip to the next paragraph... I went to the International Steel Guitar Convention in St. Louis to put my hands on as many pedal steels as I could. The winner was a Zum double neck 10 string Hybrid model. I am not a Zum endorsee. As far as I know, I paid full price for mine, but nonetheless, all I can say about this instrument is that it has been inspirational since the first time I laid my hands on it. Bruce Zumsteg, builder of the Zum, is one of my heroes. I am an endorsee for EMG pickups, Evans amps and Eminence speakers. I use these products and sought out the endorsement of these companies because I love the sound of their product. When I took delivery of my Zum, I tried a number of different pickups on it. To be able to make the sounds I want to make, hum is not an option. One of my stylistic modus operandi is to pluck a note or chord, then gradually increase its sustain by swelling the volume pedal. If a pickup hums, the more I swell the volume pedal, the more the sound morphs from what I played, into hum. This means I can't use a single coil pickup. But I don't like the way humbucking pickups sound on pedal steel- the high end isn't open enough for my ear. EMG pickups solve this problem. My previous steel had EMG 40J pickups. For the Zum, I settled on 40CS pickups. Magnifique! I play through the Evans hybrid (tube front end, solid state back end) amp, and use an Emminence Commonwealth 15" speaker. Although in order for me to be happy with it, it had to be modified by the genius (and I don't use this term lightly) Keith Reinegger at The Amp Lab in Cupertino, CA, I use a Hilton volume pedal. I use Mogami Platinum Guitar cable with G & H connectors. On the recording side, I use a vintage Sony C37A vacuum tube microphone, a DW Fearn VT-2 vacuum tube preamp, and a Pendulum OCL-2 vacuum tube compressor. For safety's sake (being a musician or an engineer is demanding enough work, doing both simultaneously usually means my engineering suffers a bit) I also record an (insurance…) direct signal using an Éclair Engineering Services Evil Twin direct box, and with the help of a John Cuniberti Reamp can sometimes survive those over-zealous milliseconds that go unnoticed until it's way too late, by reamping the direct signal (which I purposefully record at a relatively cautious level…).

It took me quite a while to compile all this new gear (I got it one piece at a time…) and to get it all working the way I wanted it to, but I finally did, pretty much just in time to do the TED demos. Even though I didn't succeed in landing that gig, I was reminded how much I love writing and producing my own music, and that I was LONG OVERDUE to make a new album. The silly thing is, that I found myself making TWO albums. The demos Jeffrey and I had made were suggesting a new sound to me. I've always loved music put out by the ECM label. My duo music with Jeffrey seemed ripe to push in that direction. Our demos and additional music are evolving into an album's worth of material, featuring Jeffrey Wash on fretless bass, Jason Lewis on drums and either John R. Burr or Rich Kuhns on piano, and of course me, on pedal steel. As I write, this album is about half produced, and probably won't be done until late in 2010.

But don't worry Slider fans! Enough people have made it clear to me that they wanted a follow-up to Slider, that I felt very energized to do another small ensemble, no trapset, relatively ambient album, Hybrid. As I've been preparing to "launch" Hybrid, I've been sorting through emails I've received since the release of Slider. So many kind people have been so encouraging! I'm very much self-driven, but knowing that the music I've created is actually being enjoyed by people all over the world has really been deeply satisfying. Thanks to everyone who has either purchased Slider, or has made it clear to me that my music has been meaningful to them. Although Hybrid follows in Slider's footsteps, it is unique. I feel that Slider, done relatively quickly and with a lot of input from Hearts Of Space Records represents a toe in the water. With Hybrid, I really wanted to dig as deeply into my musical soul as I could. I took more time both writing and producing it. Also, whereas the only two guest artists on Slider were Jeffrey Wash on fretless bass, and my cat Hana, whose purring was the rhythmic basis to a track dedicated to her own existence: Homage pour la Grande Fromage [Michele and I LOVE our Hana!], many esteemed guests grace the tracks of Hybrid. I believe these guests greatly enhance the musical experience embedded in the tracks on Hybrid. The very first sound you hear on track 1, Pohaka La, is the ukulele of Jake Shimabukuro, followed shortly thereafter by the return of Jeffrey Wash on fretless bass. Back in the 1980's when I was a staff engineer at Dragon Studios, I met Kent Darnielle, who came in to record some of the most imaginative solo piano compositions I'd ever heard. We've collaborated numerous times since then. I asked him to write a piece for piano and pedal steel for Hybrid. I liked the result, track 2- Maya, so much that I asked him to write a second one as well: track 10, Silenzi. Kent plays piano on both of these pieces; they're the only pieces on Hybrid I didn't write myself. On track 3, Gleaming Towers, Salar Nader joins me on tabla, and once again, Jeffrey Wash on fretless bass. On track 6, Arctic Front, I'm joined by cellist Matt Brubeck and once again by Salar Nader on tabla. Real Vocal String Quartet (Irene Sazer and Alisa Rose on violin, Dina Maccabee on viola and Jess Ivry on cello) join me on track 7, Okanagan Jubilee. On track 8, Dust Bowl Revisited, John Loose plays tabla and David Immerglück plays electric guitar. On track 12, There But 4, Paul Olguin joins me on bass and Karl Perazzo on conga. Much to the credit of Stephen Hill, Slider is almost a continuous listening experience from the beginning of the album, to the end. My guess is that many people, who've enjoyed listening to Slider many times, may not know where one track leaves off and the next track starts. I really like this quality of the album. For better or for worse, Hybrid is a different experience. I really wanted to stretch my imagination in the making of this album. Whereas I view Slider almost as a dream experience, I wanted Hybrid to feel more like traveling, offering different experiences as the album progresses from one track to the next. Once the album is launched (some time this spring [2010]), if you navigate to the Hybrid track on this website, you'll be able to navigate to individual pages dedicated to each track on the album, each page offering a bit of a "back-story", a clip from the track and in some cases, some visual images, each of which support the history and my thoughts about the track.

When I took control of the rights to Slider, I formed Wiggling Air Records to re-release it. Hybrid will be the first record to be launched from its inception on Wiggling Air Records. As such, I'm learning a lot about how to launch an album! As of slightly before Christmas, 2009, production is complete, and the audio has been mastered (by David Glasser at Airshow Mastering in Boulder, CO). Graphic artwork is being directed by Victor Krummenacher and is well on its way to being completed. Technically, I could conceivably be ready to release the album some time in late February, but it's looking more likely that release won't happen until April, or possibly as late as June. The reason for this has to do with how this paragraph began. Being a bit of a novice record company owner, I probably should have begun investigating foreign licensing possibilities earlier on- I'm told by people who know more about this process than I do, that synchronizing release worldwide is the way to go, and that process takes at least a few months. The problem when one is wearing the hats of both record label and artist is that during production, I was too engrossed with making the album to want to shift my focus toward what I would want to do with it once it was made. I guess it's okay though- for the kind folks who occasionally email me asking where Son of Slider or Slider II is, it's been 9 years(!) since Slider was originally released; I guess a few more months is just a drop in that bucket...