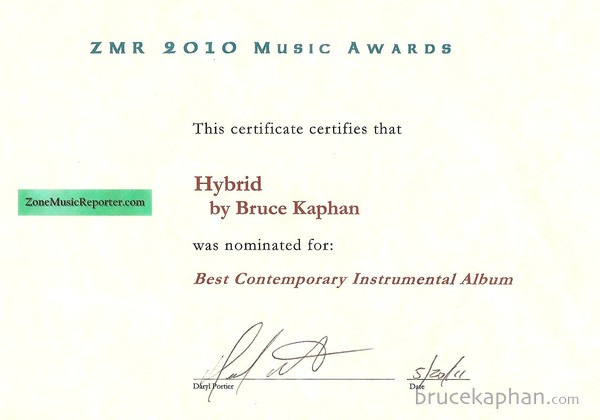 Zone Music Reporter (the only chart that covers music such as that on Hybrid), in its "Top 100", ranked Hybrid at #3 in June and #2 in July, and after the curtain came down on 2010, Hybrid was nominated for Best Contemporary Instrumental Album for the year. The syndicated radio program "Echoes" ranked Hybrid at #6 in its August "Top 25". Many thanks to all of the people who've been spinning Hybrid!



REVIEWS
Hybrid
Bill Binkelman, Zone Music Reporter
[Bill has indicated that the following review will appear in Zone Music Reporter, but publication date is not yet certain]
Bruce Kaphan
Hybrid
Wiggling Air Records (2010)
You may think you know what musical arena the pedal steel guitar belongs in, but trust me, you don't know Jack, at least not when the artist playing said instrument is the visionary and talented Bruce Kaphan. Seemingly on a one-man mission to smash any wide-spread preconceptions that this instrument is more-or-less constrained to country music, Kaphan has recorded/released Hybrid, a virtual whirlwind tour of the many capabilities of this misunderstood instrument. Across the CD's twelve tracks, and with the assistance of a handful of accompanists on selected songs, Kaphan showcases pedal steel's ability for evoking a myriad of emotions as played out on a multi-hued canvas which stretches from progressive to jazz fusion to world beat to pop to blues to even a smattering of quasi-experimental. Yes, there are certainly moments here and there when some listeners may think "Grand Ole Opry," but it wouldn't be a stretch to also think "Hearts of Space" (astute readers will recognize that HOS was the label which released Kaphan's only other solo effort, Slider).
Kaphan has deep, long musical roots—as a sideman, producer, composer, engineer, etc. However, his solo career has been sparse (as noted above). This should not be any indication of a lack of chops on his part, though. As the artist himself recounted to me in an interview, this is just how his life unfurled. Now, though, he is consciously making an effort to put himself out front and Hybrid makes it abundantly clear that this decision was both wise and maybe even overdue.
The opening track is "pohaka la" and if the title didn't tip you off, the presence of Jake Shimabukuro's ukulele might do the trick. Yes, this track has a noticeable Hawaiian flavor, but not the Hawaii of tourist traps, cruise ships, and faux leis. No, this is "deep" Hawaii, cloaked in ancient mystery (aided by the sparse fretless bass Jeffrey Wash which lends an otherworldly aspect to the piece). Kaphan shares the spotlight with his two guest stars, sometimes stepping back and allowing the pedal steel to add ambient texture to the song. (By the way, Kaphan also plays acoustic guitar, keyboards, and the percussion instrument known as the ipu on the CD).
Next up, "Maya" merges Kent Darnielle's mellow piano with languid note bending on pedal steel by Kaphan, taking the music into a blend of jazz and quasi-new age. I love the laid-back reflective nature of this song which could have come from a classic-era Windham Hill album, if the esteemed label had had a pedal steel player in their stable at that time!
I can only mention a few more tracks due to space limitations, e.g. the world beat influences, courtesy of Salar Nader's tabla, on "Gleaming Towers," and the progressive fusion tune "Loops for Larry" on which Kaphan goes solo (and, yeah, it's chock full of pedal steel loops layered over one another in a hypnotic spiral of overlapping mournful blues). "Okanagan Jubilee" (named for a region in the Canadian province of British Columbia) interjects Kaphan's pedal steel with the strains of a small string quartet (cello, violins, and viola)—at times, straightforward, at other times just off kilter enough to be whimsically bizarre, while "Dust Bowl Revisited" is a powerful, dark whirling miasma of deep sorrow, propelled by John Loose's tabla and David Immerglück's electric guitar. The kick-off -your-shoes vibe of "There But 4" is the only track which sounds like "typical" pedal steel guitar album music, brimming with country whimsy, down-home warmth, and a gentle playfulness that is damn near irresistible even for this bone fide city-dwelling soul.
Long-traveled reviewers, such as yours truly, may be tempted to quote "There is nothing new under the sun." When I listened to Hybrid for the first time, I put that cliché away in a drawer—for good! Bruce Kaphan has shown me the light, as he will do for you if you are smart enough to pick up this highly recommended album.
Rating: Very Good+
Bill Binkelman
Zone Music Reporter




Mainly Piano
Kathy Parsons
Hybrid
Bruce Kaphan
2009 / Wiggling Air Records
51.7 minutes

It is always a treat to be exposed to a musician who is a master of his or her instrument. When that musician is also an innovative artist who puts his or her instrument into an unexpected context, the treat takes on an additional "wow!" factor. Traditionally, the pedal steel guitar has been a staple of country and Hawaiian music, but Bruce Kaphan has created a unique niche for the pedal steel via his original compositions and unconventional approach. On his 2000 debut CD Slider - Ambient Excursions for Pedal Steel Guitar, Kaphan played most of the music himself. On Hybrid, he includes a very impressive group of musicians on such diverse instruments as cello, ukulele, piano, fretless bass, tabla, congas, and strings. The music is also diverse, ranging from melodic to more conceptual and experimental work. The album as a whole is far from "business as usual," but it is indeed a fascinating ride!

"Pohaka la" begins the album with a piece inspired by sunbeams poking through clouds in Hawaii. Ukulele and fretless bass join the pedal steel to paint a vivid but serene portrait of the experience. "Maya" is a piece for pedal steel and piano composed and performed by pianist Kent Darnielle. It's a very unusual combination of instruments, but Kaphan and Darnielle make it work beautifully. "Gleaming Towers" brings in tabla and fretless bass along with atmospheric keyboard sounds to create one of the more ambient tracks - effortless and floating. "Senbazuru" has a fascinating history that I'll try to condense. The guitar track was recorded by Tom Size in 1982. While taking a walk and reflecting on the anniversary of the bomb blast in Nagasaki, Kaphan started hearing this track in his head along with a pedal steel accompaniment which he raced home to record. Kaphan's wife then named it "Senbazuru," which is Japanese for 1000 origami cranes, a symbol of peace. "Okanagan Jubilee" was composed during a ski trip in Canada, and is written for pedal steel and string quartet - a very different sound, to be sure! "Dust Bowl Revisited" is very challenging, but given that the stimulus for writing it was the fear "that with the amount of carbon dioxide being dumped into the atmosphere, and the inability of human beings to get organized over anything other than finding new ways to kill each other (and any other species in their path), Bleakest House is on the horizon..." (quoted from notes on the music on Kaphan's website), the discordance and feelings of chaos and confusion are absolutely right. "Silenzi" is a second piece composed for piano and pedal steel by Kent Darnielle. Quiet and thoughtful, it's another beauty! "Renewal" is the first time Kaphan has recorded a solo pedal steel piece. The sound is lovely, and I hope this is the first of many solo pieces! "There But 4" ends this album a bit more traditionally with a happy, contented piece with a country flavor. Great stuff!

Hybrid provides an eclectic and very enjoyable assortment of musical experiences. Check it out at www.brucekaphan.com, Amazon, iTunes, and various independent music stores.

Kathy Parsons
MainlyPiano.com

6/9/10




Reviews New Age
Alejandro Clavijo
[The following review was originally written in Spanish. The above link leads to that version of the review. Below is the English translation graciously provided by the review's author Alejandro Clavijo.]

Hybrid
Bruce Kaphan_2009_51.7 minutes

One of the most pleasant surprises I've received in recent days is the latest work by producer, composer and musical engineer Bruce Kaphan, Hybrid. Bruce is not newcomer to music, has collaborated with countless artists, which are: Jewel, REM or the great John Lee Hooker. Hybrid is a work rich in terms of sounds, different instruments can be distinguished: Cello, tables, ukulele, violin, viola, bass, strings, piano and congas, although the main voice of the twelve shorts that include this CD, is the Bruce's steel guitar, a type of electric guitar originally from Hawaii, consisting of two or more masts in a horizontal position. A rare instrument, which reached its peak accompanying to folk bands, rock and blues between decades 30 and 70. Bruce offers an interesting role in the New Age style, unusual, yet successful.
"P_haka l_" opens the CD. A track inspired by a sunset in Hawaii, where the rays of the sun, made their way through the dense clouds drawing a beautiful scenery where the dark clouds color joins the warm rays of the sun, an amazing sunset. The ukulele by Jake Shimabukuro and fretless bass Jeffrey Wash accompany the soothing melody plays Bruce in the pedal steel. A slow-moving piece with an extraordinary power of relaxation. I love it.
Warm character is "Maya", where piano notes by Kent Darnielle and the expresive steel guitar sound form a special tandem. The conversation between the two instruments is fascinating, creating a melody endowed with a great delicacy.
With "Gleaming Towers" starts the rythm. To this piece is added the sound of the Salar Nader Indian percussion, fretless bass and a keyboard synth. A fast tempo but soft accompanying the haunting melody that Bruce plays on the pedal steel. A piece, which, although not too fast, has a pleasant feeling of wellbeing.
The guitar is the base for the steel guitar of Bruce in "Senbazuru". A piece that was originally a guitar solo that Tom Size recorded in 82 and later, Bruce would add the sound of his steel guitar. Thousand origami cranes is the name given to a Japanese symbol of peace, consisting of 1000 origami cranes (paper). Bruce recounts that walking when music sounded in his head, rushed to record it and his wife, he said the title, Senbazuru, recalling the disaster of Nagasaki sixty-four years ago. The piece is of character hopeful and emotive, where the guitar strumming powerful chords that accompany the warm steel guitar. One of my favourites!.
"Loops for Larry" is a song dedicated to his neighbour, a piece that was the last song recorded for this album. A repetitive sound of bass of background to creates a hypnotic melody that draws the pedal steel of Bruce, who until pass the minute, will not play the main melody which is repeated from beginning to end, while a synth playing a mysterious ambient sound. An interesting and disturbing piece at the same time!.
Another of my favorites is "Arctic Front". It's amazing how the steel guitar play a solo while Matt Brubeck's cello and percussion accompanying Bruce Salt from the minute half. With a strong oriental character thanks to the tables, the melody is deep and mysterious, where regret is accompanied by a rapid drum beat and the subtle cello. I love it.
"Okanagan Jubilee" is the largest theme of this work, more than six minutes and the most rich piece in terms of number of instruments. We can distinguish a string quartet composed by: the Jess' Ivry cello, the Dina's Maccabee viola and the Alisa Rose and Irene Sazer violins. Composed and inspired on Okanagan, a Canadian ski resort, the melody that draws the steel guitar Bruce joins in harmony with the string quartet. It is impressive as instruments of styles, seemingly opposite, can come together to give life to a melody equipped with an incredible passion!. Another of my favorites!.
"Dust Bowl revisited", we could say is the most ethnically piece of this work and also the most disconcerting. Sounds mysterious as wailing electric guitar with e-bow or the piercing roar of the didgeridoo will give this piece a great sense of loss and pain. Another of my favorites!.
Simply exciting is "Legacy." With a look to the past, Bruce has brought to life a nostalgic melody, where the steel guitar is accompanied by a synth. Perhaps the most melodic and heartfelt piece on this CD. A moment of remembrance, the picture of Bruce's great-grandfather (Wolf) is the image of this tender piece. Another of my favorites!.
Again, in "Silenzi" the duo is formed by Bruce and Kent Darnielle. A beautiful theme, perfect for introspection. It's amazing, a perfect alliance between the two instruments, unusual. I love it.
"Renewal" is a track inspired by an autumn rain that Bruce witnessed after a long summer. A solo pedal steel gives life to a passionate and expressive melody, which is not strange at all to the other instruments. All the sensitivity and emotion transmits the touch of steel guitar strings. Another of my favorites.
More folk, Bruce shows us the last piece of this album, "There But." The more cheerful and optimistic track of this work. For the first time, accompanied with Karl Perazzo and Paul Olguin, congas and electric bass. A perfect ending, smiling, for this great CD!. My favorite without a doubt!. Wow!.

It really has been a very pleasant surprise to receive the latest work of Bruce Kaphan. Hybrid is an incredible music, I could never imagine that one day they hear the pedal steel guitar as a solo instrument in the New Age and I'm really happy!. A new and distinctive sound, which is far from usual in this style, but surprisingly, it is awesome as it joins the other instruments in harmony. With an amazing expression and a passionate touch on his instrument, Bruce has created an amazing CD, interesting and very highly recommended.
Score: 5/5
reviewsnewage.com_17/06/10




New Age Music World
John P. Olsen
Bruce Kaphan Creates a Hybrid
June 22nd, 2010 | Author: John P. Olsen
Pedal steel guitar is a stringed instrument that often receives no respect in relation to New Age music in part because the instrument is often classified in the Country and Hawaiian music scene only, but believe me the ground rules have changed and this is primarily due to one man.
Bruce Kaphan from California has taken petal string guitar to a whole new level in New Age music for years, making this instrumental transition not only a surprising one but a dazzling one, giving even music purists a reason to love pedal steel guitar with his earlier release Slider and now Hybrid. The reason behind his new adaptation in an otherwise strict classification was pretty much the colorful sound quality it provides and a love of exploratory music.
What many find interesting is that Bruce Kaphan began his early career as a studio technician, engineer and producer for many highly recognized artists in other genres, where he either played a role with the recording production of their album or performed with artists such as REM, Jewel, The Black Crowes, Thomas Dolby, John Lee Hooker and many others. During his early days in San Francisco he was a member of Indie / Alternative band American Music Club and his music has been featured on film scores and television broadcasts.
Hybrid is an album with 12 original song compositions by Bruce Kaphan who makes it crystal clear right from first track Pohaka that you are listening to a unique composite of exotic blending with unrivaled beauty harvested from another cross section in the vast field of music.
Songs like piano enhanced Maya and guitar renditions in Senbazuru & Loops for Larry are displayed in a new manner and show the instrument as an appealing choice while clearing a new path during improvisation in light ambience while also reproducing a well conceived follow up for his Slider – Ambient Excursions for Pedal Steel Guitar 2000 release.
Pedal steel guitar happens to be the prominent instrument in Hybrid and a natural selection after listening to songs like Gleaming Towers, Legacy, Silenzi & Renewal, which breaks new ground by classifying the instrument as a main entry melody contender verses a mere supporting instrument.
In an age where hybrids in all shapes and forms are becoming more relevant daily, the new Hybrid album by Bruce Kaphan becomes a natural contender when placed side by side among traditional New Age albums.
The lighter exploratory metrical patterns of Jazz, Hawaiian & Country in Hybrid are a prized natural attraction that shows well beside other music forms while earning the respect it deserves.
Bruce enlisted numerous artists on this album including, Jake Shimabukuro, Jeffrey Wash, Kent Darnielle, Salar Nader, Matt Brubeck, Real Vocal String Quartet, David Immerglück, John Loose, Paul Olguin and Karl Perazzo and Real Vocal String Quartet that is featured in Okanagan Jubilee.
Visit brucekaphan.com to sample / purchase or visit his CDBaby.com page. Read his biography page & discography page.
Mount Shasta Magazine
Michou Landon
CD Title: Hybrid
Artist: Bruce Kaphan
www.brucekaphan.com
Pedal Steel is such an underused, siren's call of a sound. Bruce Kaphan, however, uses it to commendable effect here on his CD hybrid. He enlists quite a variety of instruments and styles to support him in the exploration of the instrument's (and the instrumentalists') many moods. Upon initial listening, comparisons to the stunning score for Brokeback Mountain are inevitable, and positive, I assure you! However, Kaphan freely extends his pedal steel meditations beyond the palate of Gustavo Santaolalla's sountrack and far beyond cliched riffs echoing through the country-and-western canon.
Kaphan's work is atmospheric but not lullaby by any means. Pedal steel is just too subtly inviting a sound, so versatilely evocative in combination with other sounds and grooves (hence the title — hybrid), not to draw you into sublimnity and admiration for it as a force of sonic nature.


Music Connection
David Arnson

Bruce Kaphan
Hybrid
Wiggling Air Records
8 (of 10) stars
Producer: Bruce Kaphan
Top Cuts: "Senbazuru," "Arctic Front," "Dust Bowl Revisited"
Summary: Kaphan follows up his amazing debut with an equally impressive offering of his slide guitar magick here. On this sonic journey, he is assisted by guest musicians contributing tabla, piano, fretless bass and even a string quartet on this all-instrumental CD. Kaphan's approach to his customized pedal steel guitar often conjures an American gothic atmosphere, and fans [of] John Fahey and Bill Frisell will surely rejoice. When inserting this album into iTunes, it's categorized this as "New Age." But that description serves an injustice to these unique cinematic jewels.
–David Arnson